Experienced, caring lawyers who practice exclusively in the area of family law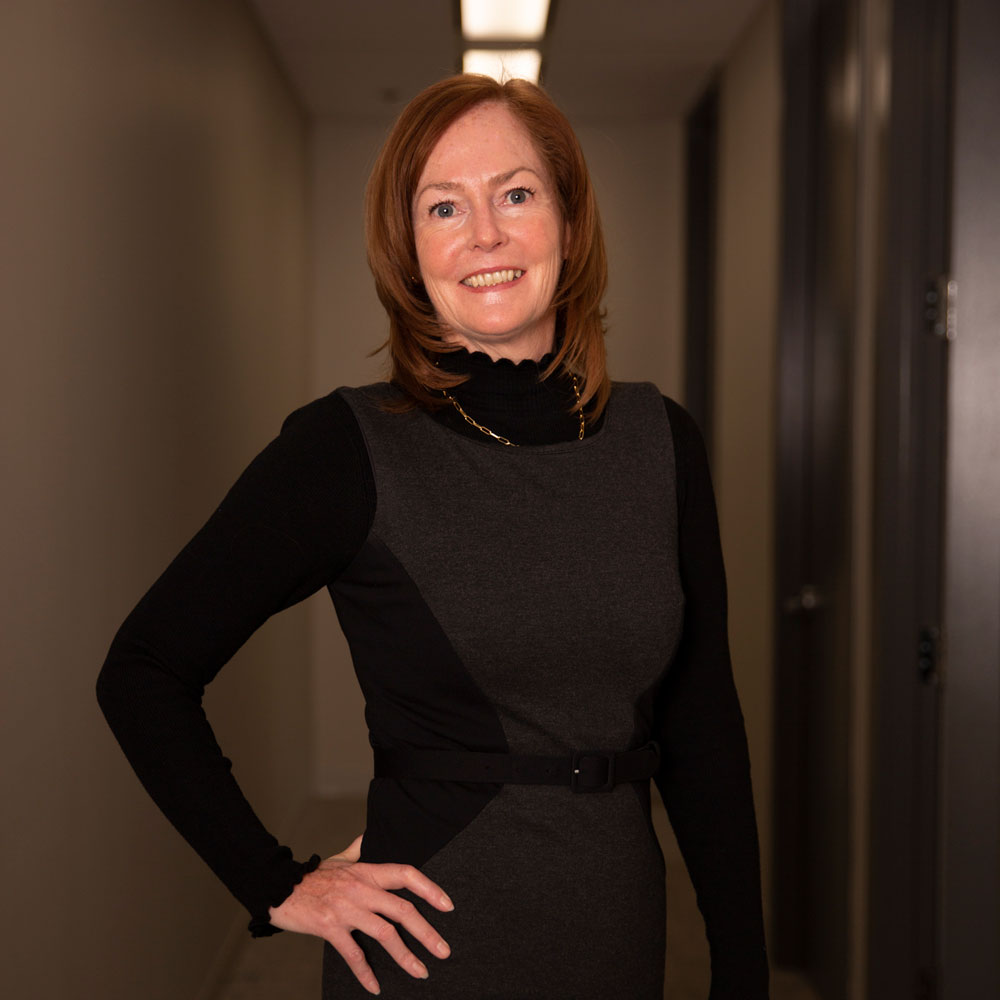 Family Law Lawyer, Mediator and Arbitrator
Email: bell@bellandstock.com
Direct telephone: (403) 767-2000
Office: 2100, 144 – 4 Ave SW,
The Ampersand, W. Tower
Calgary, AB T2P 3N4
Legal Assistant: Lynn Price
Email: price@bellandstock.com
Direct telephone (403) 767-2005
Pam L. Bell graduated from the University of Alberta, Faculty of Law in 1994. Called to the Bar in 1995, Pam has practiced her entire career exclusively in the area of family law; over 25 years.
Pam has experienced success at all levels of Court in Alberta. While skilled in the litigation arena, Pam recognizes the need for tailor-made solutions to achieve each client's unique goals. Trained in mediation collaborative law, and arbitration, she brings a wide range of problem solving skills to each client she represents.
As a trained Arbitrator, Pam has acted as Arbitrator in many complex arbitrations, bringing her wealth of experience and varied skill set to this growing practice area.
Pam's clients can expect responsive, caring representation and counsel.
Pam L. Bell founded Bell and Stock LLP with Elizabeth Stock in 2008 and remains affiliated with Bell and Stock Family Law LLP.  Pam operates out of her own independent office.
Pam has lent her expertise and time to many legal education seminars and courses, including:
Legal Education Society of Alberta – Presenter, Panel Chair (numerous) – Ongoing
Presenter, CPLEA – 2021 to Present
Family Law Consulting Committee (Justices S. Kachur and D. Yungwirth, Chairs) – 

2021 to Present

Volunteer Calgary Legal Guidance (

Distinguished Service Award 25 years

) – 1995 to Present
Canadian Centre for Professional Legal Education – Lecturer (20+ years) – 1998 to Present
Panel Chair, Lake Louise Family Law Refresher – 2019

8th Annual Law and Practice LESA Seminar – October, 2018

Canadian Bar Association Member at Large, Small, Solo and General Practitioners Section (National) – 2018

Association of Family and Conciliation Courts (AFCC), Calgary, AB – Panel Presenter – 2014
Alberta Law Conference – Presenter, Panel Chair – 2012
What Pam's clients have to say:
"Pam is a great lawyer. Communicates well and you can trust she will always act in your best interest!"
"Excellent lawyer! She took over this case after a maternity leave of our original lawyer, and got up to speed quickly and delivered better than expected results with the outcome. She is extremely professional, does not mince words and got the job done."
Family Law Lawyer, Mediator and Arbitrator
Elizabeth E. Stock completed her undergraduate degree at Trinity College at the University of Toronto in 1992. She graduated from the University of Calgary, Faculty of Law, in 1996. 
Since being called to the Alberta Bar in 1997, Elizabeth has practiced exclusively in the area of Family Law. She uses her experience and training in Collaborative Law and Mediation to assist clients to reach amicable resolutions. As an experienced litigator, Elizabeth will skillfully ensure her clients rights are protected, when needed. 
Elizabeth has volunteered extensively and was named one of Calgary's Top 40 Under 40 in Avenue Magazine 
Elizabeth cares about her clients.
What Elizabeth's clients have to say:
"My file was complex and challenging. Elizabeth took the time to really understand the issues and talked me off the ledge a number of times. I felt that although she was representing me she tried to keep me grounded and realistic as to what we should or shouldn't push for in the settlement. It definitely helped to move the file forward."
"I really liked the fact that Elizabeth listened to what I had to say and spent a great deal of time talking me through the process. She is patient and understanding and I found her practice to be one based on fairness and resolution."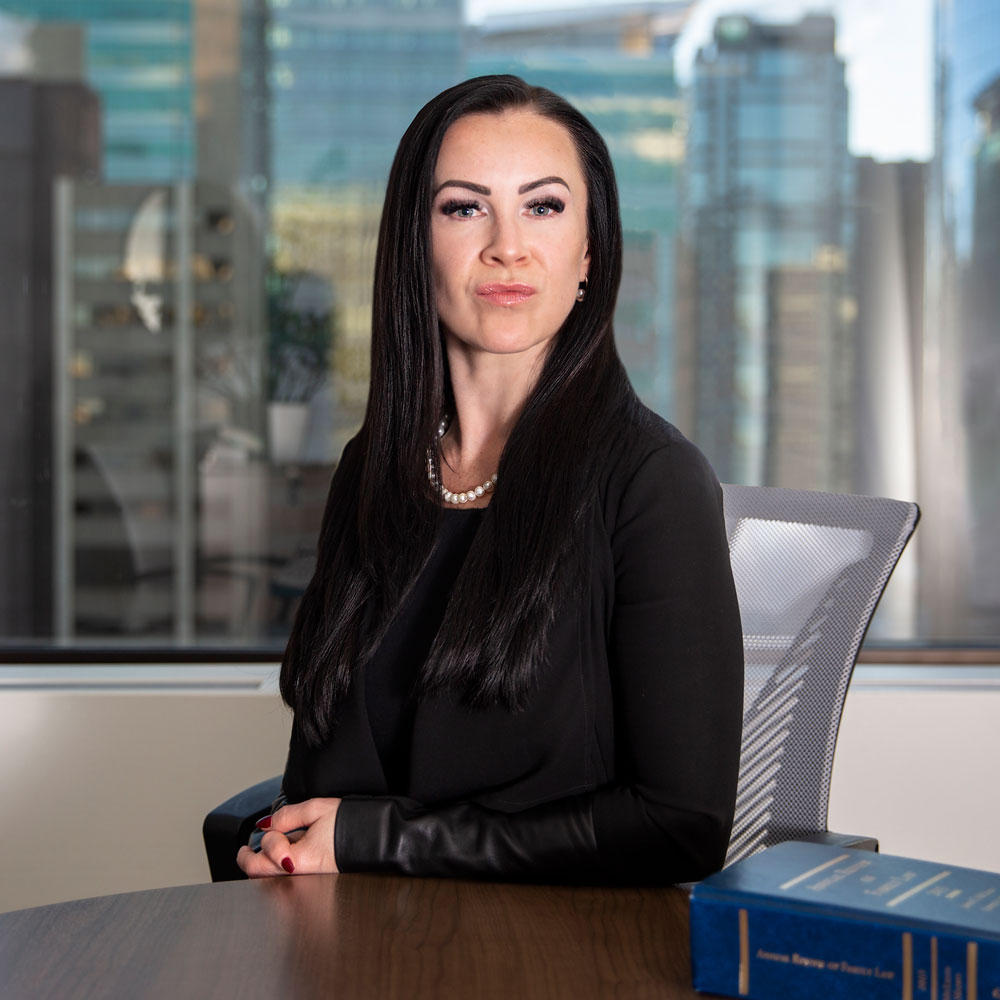 Carey was told by many that 'she should be a lawyer when she grew up'. So, she did just that. Carey was raised in Calgary, Alberta taking both her Bachelor of Arts Degree, and later her Bachelor of Laws Degree at the University of Calgary. After obtaining her Law Degree in 2010, Carey articled at a mid-size firm. Shortly thereafter Carey joined Bell and Stock as a young associate. It was there she discovered her love of family law. 
After spending the last 7 years practicing at another well-respected firm in Calgary, Carey has recently returned to Bell and Stock as a Partner, in a wonderful 'full circle' twist of fate. Carey's love of family law is grounded in her belief that while separation and divorce is hard, it is possible to move through the process in a way that is respectful and positions the family to be successful going forward. 
Her common sense, straight forward approach allows her clients to understand their rights, the process, and their options in order to make the best possible decisions for themselves and their family. She is a tough advocate when necessary, but believes clients are best served when they are in control of the outcome. She is an adept advocate in all processes, including mediation, arbitration and Court in instances where a tough advocate is required. 
Carey also offers flat rate fees for certain steps in the process. Carey has been actively involved with various organizations, speaking on a variety of legal topics, including:
Presenter for Calgary Legal Guidance on Executor's Duties and Responsibilities;
Presenter at SAIT DAY, on Estate Planning and Incapacity;
Presenter at various Royal Bank Branches on the new Wills and Succession Act;
Presenter to Institute of Advanced Financial Planners on the new Wills and Succession Act;
Presenter on Estate Planning at the Alberta Teachers' Association seminar;
Sessional Lecturer on Estate Planning and Administration, Chinook Learning Services, Continuing Education, 2011-2012;
LESA Advanced Child Support Panelist – February 2016; and
Calgary Immigrant Woman's Association Volunteer providing pro-bono legal advice.
Presenter at ….
Carey is the proud Mom of two large fur children, Koda (a 75lbs Husky lab cross) and Stewie (a 95lb German Shepherd Malamute cross) and thus spends an inordinate amount of time vacuuming when she's home. She is an average hiker, avid wine drinker and loves travelling with her Husband.
What Carey's clients have to say:
"Now that it is over I can attest that divorce can be an awful life experience. Carey was my second lawyer, I truly wish she was my first. She is very knowledgeable, approachable and put me at ease while she guided me through my journey. Saying this she was compassionate when it was required, she was diligent when it was required, she was a bulldog when it was required. Should you ever be going through this process I would very highly recommend you contact Carey and let her put you in a place that you will feel cared for and protected. My words will not and cannot ever express my gratitude towards her and I will forever be grateful."
"Carey is fantastic to deal with! She eased my mind and supported me while I was dealing with a stressful situation that I had never been in before. She is very knowledgeable, easy to communicate with and makes you feel like an important client regardless of how busy she is. I would not hesitate to retain her again."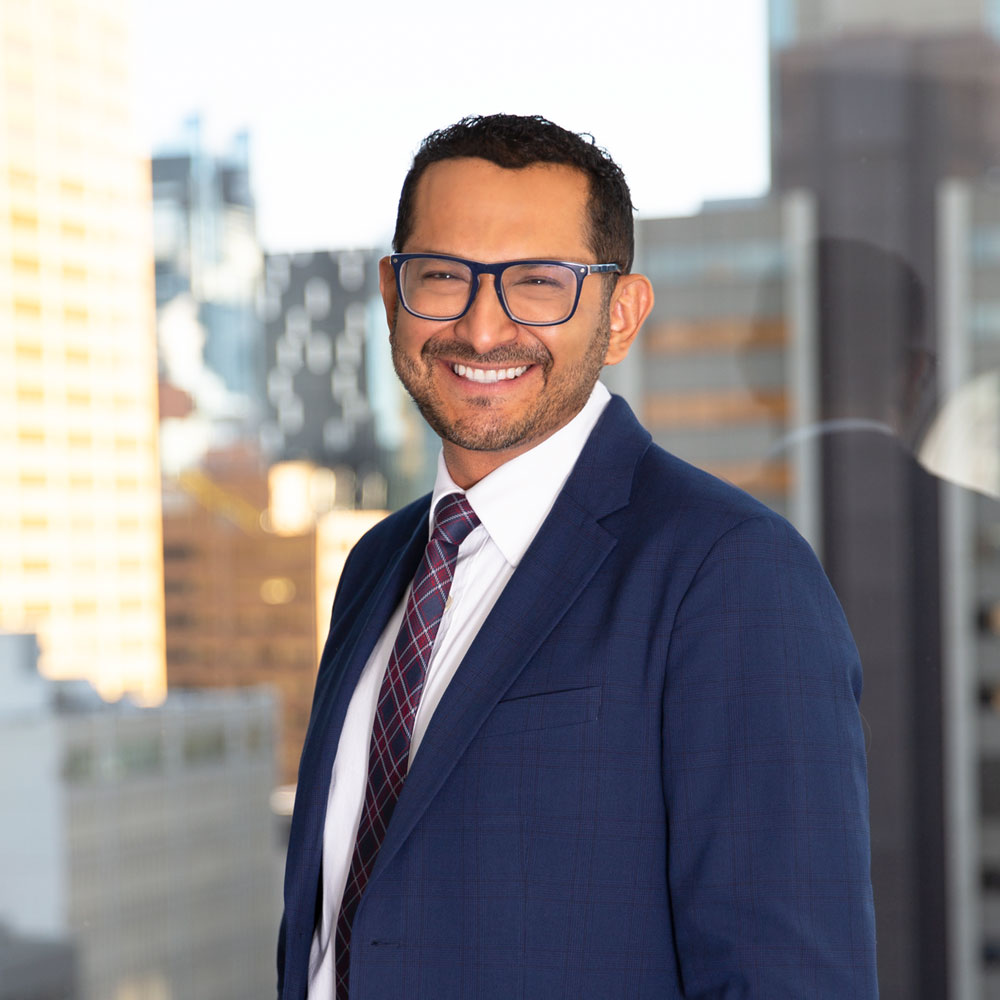 Enrique has been working on resolving family law disputes for over 15 years. Enrique was a high school teacher before becoming a lawyer and his love for teaching continues to show both in how he guides his clients through the court system and negotiation process, and in how he approaches decision-makers when advocating for his clients.
His clients can always expect to get homework when meeting with Enrique, who believes that clients should be active participants in resolving their disputes. Enrique was born in El Salvador and grew up in Calgary. He obtained a Bachelor of Arts in English (with Distinction) and a Bachelor of Education (Secondary English Literature) in 1999, and he obtained his law degree in 2007, all from the University of Calgary.
Enrique's practice focuses on support and property division issues. He approaches all property and support cases with a view of settling out of court but is prepared to use all the legal tools available to his client to achieve results. Enrique also offers cohabitation and pre-nuptial agreement preparation, and is a strong believer that these contracts prevent couples from unnecessary conflict in the long run.
When children are involved, Enrique understands how difficult separations are on them, and he strives to find solutions that focus on the children's needs, depending on their ages and developmental stages, while ensuring that his client's rights are protected.
Enrique speaks Spanish and offers legal services in his native language. When not in the office, Enrique enjoys spending time with his son, and taking his dog for a walk.
What Enrique's clients have to say:
"Enrique had my back when no one else did. He broke the law down for me and explained what was happening. I am now ready to move on and I am so glad I hired him. He's a nice guy that knows when to push back. Highly recommended."
"We had Enrique represent us for over 3 years in a very high conflict custody and divorce dispute. He was consistent and understanding. He would listen and always find the path of least resistance when trying to deal with the other side. There was frustration along the way, feeling like our hands were tied with no recourse, but Enrique would follow-up with all of our requests. When emergency issues arose, Enrique would make sure to contact us, even to go as far as answering an email on Christmas Eve - or when he was out of the country. I cannot say enough good things about this man! If you want someone with a heart, knowledge and a soul...retain this man!"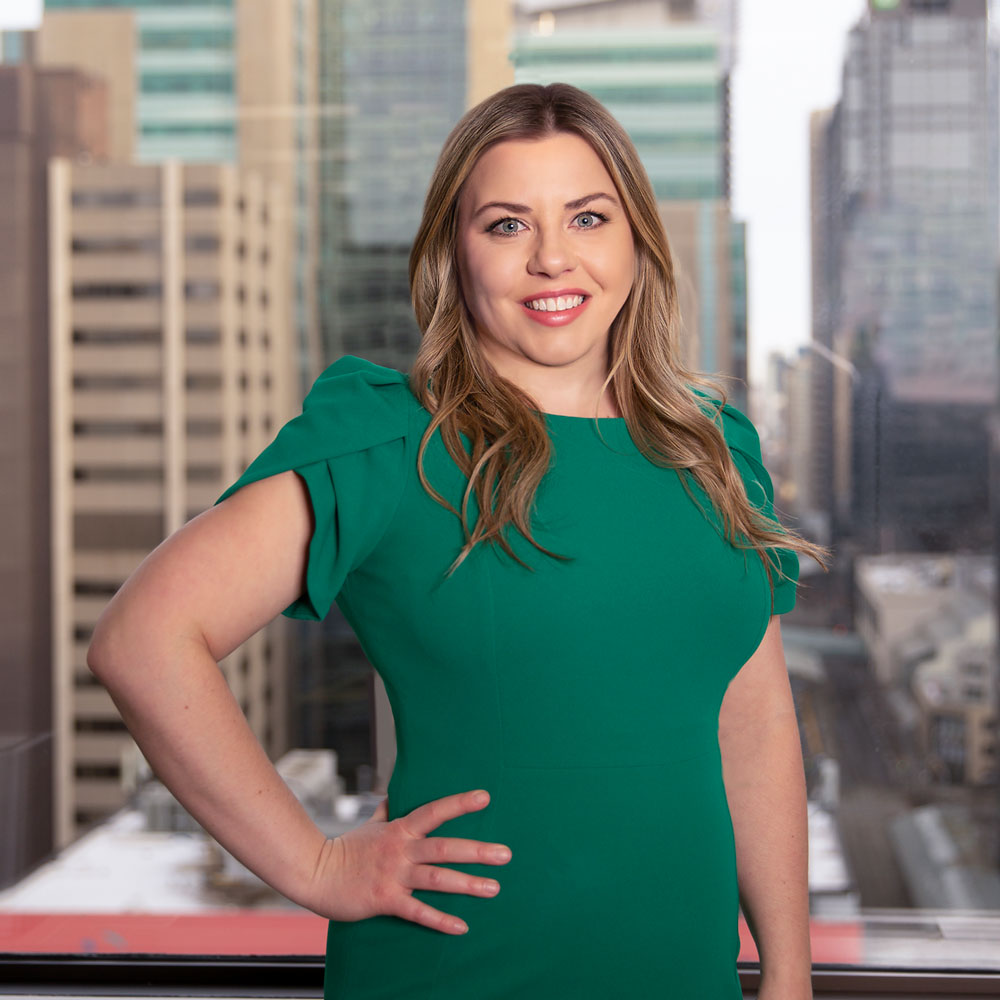 Family Law Lawyer, Mediator and Arbitrator
Sierra has practiced exclusively in family law during her legal career. Sierra was first drawn to practicing family law while working at Legal Aid Alberta throughout law school. She enjoyed working with individuals to achieve practical solutions to their issues. Sierra's focus is on building strong relationships with her clients and having clear communication. She looks forward to challenging herself with the complexities of family law while providing strategic, satisfying legal solutions for her clients' needs. Sierra is comfortable appearing in Court or pursuing Alternative Dispute Resolution, whichever is in the client's best interest.
Sierra is trained through the Alberta Family Mediation Society as a mediator, and the National Family Law Arbitration Course as an arbitrator. Sierra provides services to parties who are looking to negotiate a settlement agreement, and engage in alternate dispute resolution outside the Court system. Sierra offers a reduced hourly rate for mediation and arbitration services.
Sierra was elected to the Canadian Bar Association – Family Law South Executive in 2020, and will serve through to 2027. Sierra has published and lectured for the Legal Education Society of Alberta on the topics of determining income for support when a party is self-employed, and the impact of the status quo in interim parenting applications.
Sierra received her Bachelor of Arts (Honours) in Philosophy from Queen's University in 2010 and her Master of Arts in Philosophy from Wilfrid Laurier University in 2011. Sierra graduated from the University of Calgary, Faculty of Law in 2015. She was called to the Alberta Bar in 2016.
Outside of the office Sierra is passionate about exploring the mountains on foot or on skis, reading fantasy novels, and having as much fun as possible with her three sisters. Sierra volunteers her time with the Wildwood Community Association Board of Directors, and the Calgary Immigrant Women's Association. In previous years she has volunteered with Kids Up Front and the Association of Women Lawyers.
What Sierra's clients say:
"I have no reservations whatsoever in recommending Sierra to anyone who needed a family law / divorce lawyer. Knowledgeable, compassionate, practical, reasonable fees. Explained everything to me throughout the process, great listener, easy to speak with, responsive. Very grateful she was recommended to me - I can certainly understand why. Thanks so much, Sierra!"
"I would highly recommend and have recommended Sierra to anyone who needs a family/divorce lawyer. She was great to work with, took time to listen to me and what I wanted, and held the other party accountable for their side of the process."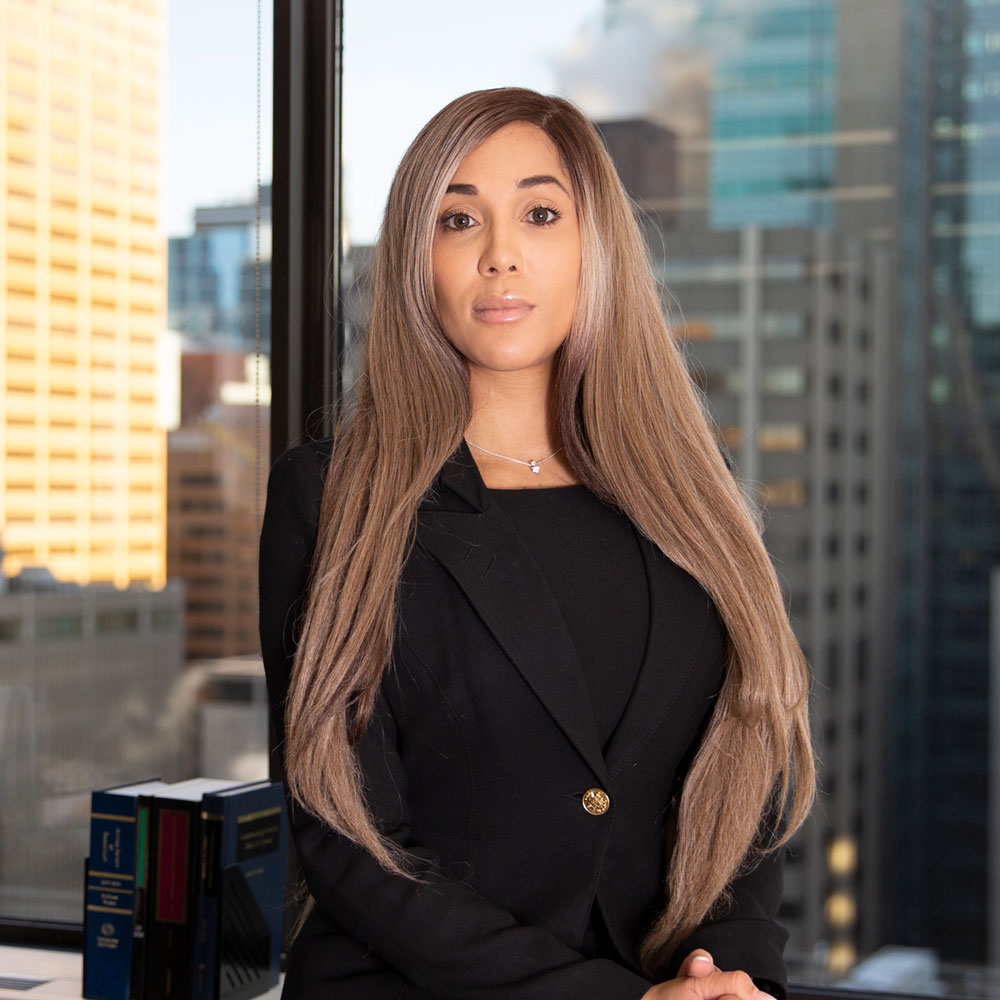 A lifelong Albertan, Katrina received her Bachelor of Arts (Honours) from the University of Calgary in 2011, where she went on to obtain her Juris Doctorate in 2015. Having a keen interest in property rights, policy and the evolving sociology of the modern family- family law captured Katrina's interest early in her legal career which remains evident in her zealous representation of her clients.
Katrina prides herself on her results-driven, client-centric approach, acting on behalf of clients in a broad array of family law matters, including: property division, child support, spousal support, parenting, mobility, and custody disputes. Her representation is premised on the belief that all cases are unique and that each client deserves effective, efficient, personalized service.
When she is not in the office, Katrina likes to keep active and enjoys leisurely hikes, culinary pursuits (participation limited to "taste tester"), cross country skiing and spending quality time with her dog "Boots".
What Katrina's clients say:
"A true bright spot in a very difficult time....no one can truly prepare for the heartache and mess that come with a breakup but things are certainly made easier when you can put your faith in Katrina Prah. She is personal and takes care to understand what is important to you as you navigate an uncertain time. Her knowledge and experience allow you to be prepared for the inevitable ups and downs that come with divorce and child custody arrangements. If you find yourself in the unfortunate predicament of needing a family Lawyer then I would highly recommend consulting with Katrina at Bell and Stock."
"My legal agreement timelines were tight. Katrina Prah was very responsive and was knowledgeable in explaining my rights while providing recommendations on ideal vs needed changes in order to optimize the outcome for everyone. Very helpful, very much appreciated."